Hi, I am Patrik Bergman and I scan the news sites, blogs, and Twitter feeds for the latest developments within machine intelligence. I take the time to reflect on these developments, to see what we can win from them personally and professionally.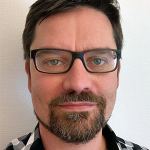 What is Machine Intelligence? I borrow the description by Deloitte in their Tech Trends 2017 report, saying:
The bigger story is machine intelligence (MI), an umbrella term for a collection of advances representing a new cognitive era. We are talking here about a number of cognitive tools that have evolved rapidly in recent years: machine learning, deep learning, advanced cognitive analytics, robotics process automation, and bots, to name a few.